Fast & Effective Pest Control
Commercial Pest Control Services
We understand how disruptive a pest control problem can be to a business and the inconvenience it can cause. We have extensive experience in providing an effective and cost-effective commercial pest control service to a wide range of commercial, industrial and agricultural organisations throughout the North of England. 
At VermEx, we have over 30 years of experience of dealing with a range of different types of pests with tailored solutions designed to meet your individual needs. No matter what your pest management problem might be, we are confident that we can provide you with a professional pest control solution that provides you with peace of mind. If you have a pest problem on your commercial property, don't hesitate to get in touch with the pest control experts. 
We provide a range of commercial pest control services, such as:
Regular inspections, early detection monitoring and integrated pest management. 

Installation of bird control measures, such as netting or spikes

Servicing electronic fly and insect killer units

Installation of insect screens
Professional and prompt service, I had an issue with a wasps nest near my front door, Vermex came out the same day and sorted the issue quickly and efficiently, would highly recommend.
Great service - I sent a photo and they helped resolve via e-mail. No cost - no-one's time wasted. Spot on. Thanks Nick.
Friendly professional and quick
Very professional, prompt and friendly service. The receptionist is also very helpful and knowledgeable. I would definitly recommend. Very decent prices too.
Fast and effective pest control service - friendly staff - cost effective - would highly recommend for any bird proofing you may need.
Hospitality & Restaurant Pest Control
Any pest activity in your restaurant, pub, cafe, bar or takeaway can do serious damage to your business reputation. Hospitality services are expected to provide a safe environment for both customers and staff and pests, such as rodents, insects and pest birds, present a threat to hygiene standards in any food preparation and storage areas.
If you are concerned about having pests in your commercial premises, then our professional pest control service can put your mind at ease and ensure that you can continue to deliver high-quality food and hospitality to your customers.
Hospitality services often suffer from the following pest infestations:
It is essential that businesses involved in the food supply chain take appropriate measures to prevent any pest infestations. In addition, early detection and effective control of any pest infestations are critical. VermEx can provide professional pest control measures to keep you compliant with all standards. 
We have helped many commercial clients control pest risks, including insect and rodent control measures, protecting your customers and your reputation.
Due to the rural nature of farms, they are a typical refuge for a wide range of pests. Here at VermEx, we have many years of experience in providing a fast and effective pest control service to agricultural organisations throughout the North West.
We can advise on housekeeping, proofing and stacking, to minimise the risk of infestation. From wasp nest removal to rat control methods, we will provide you with a bespoke, cost-effective solution.
Rats

or

Mice

can cause damage to farm buildings and equipment. In addition, rodents also pose a fire risk when they chew through electrical wiring and cables.

Wasps

are a nuisance and can also present a health risk with their stings. Wasp nests are common on farms and can be dangerous to remove without the right tools or equipment.

Flies

and other flying insects can contaminate your stocks and pose a health threat to your livestock.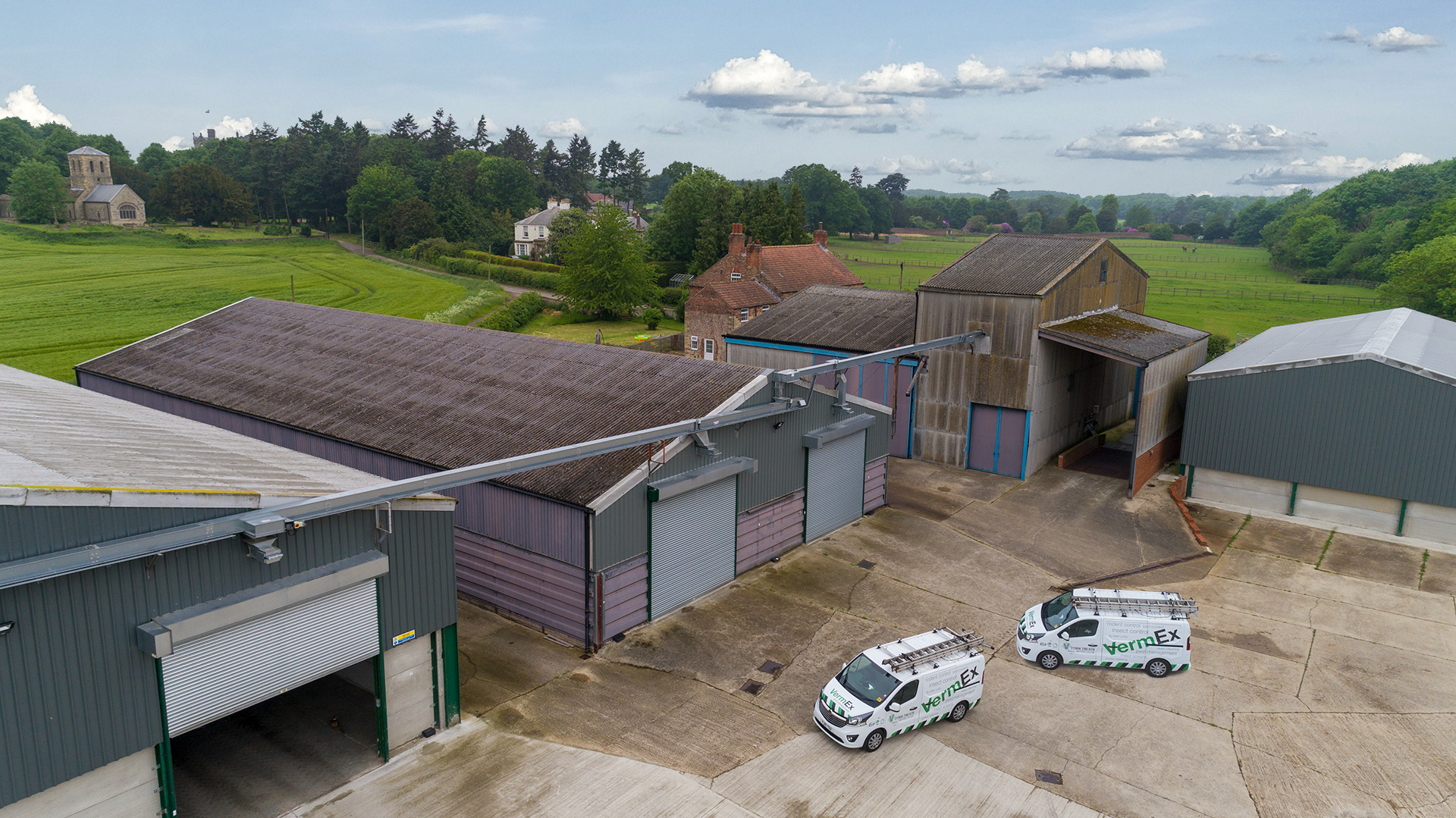 Industrial Premises & Warehouse Pest Control
With such large sites, factories, warehouses and other industrial premises are at an increased risk from pest infestations. Our BPCA qualified technicians can help you to maintain your hygiene and cleanliness standards with tailored pest control solutions that suit your industry. 
Various stages of your operation may be at risk of pest infestations from insects, rodents or birds. This is why we offer high-quality manufacturing pest control all along the production chain, from goods receipt to product delivery. Our service solutions will help to prove to the businesses you supply, and their customers, that your manufacturing processes are beyond reproach.
Pest Control For Food Retail
The food retail industry is the most visible part of the food chain when it comes to customers. As the last step before the food reaches the consumer, Food retail stores have a greater responsibility for ensuring the safety of their customers. Here at VermEx, we have years of experience working with retail businesses to prevent and resolve pest infestations to a high standard with fully trained technicians.
The food retail sector includes grocery stores and supermarkets and can range in size from a small street corner shop or deli to a large supermarket chain with a large supply and distribution operation. The Food Retail sector faces threats from pests from multiple sources.
With multiple entrances, lots of furniture and food preparation areas hotels are an attractive target for many common pests. Hotels stand to suffer greatly as a result of pest infestations, from loss of both revenue and reputation. That's why we always aim to provide a discreet and effective pest control service to help you keep your customers, staff and reputation safe. 
Our range of pest control solutions tailored for the hotel industry reduces the risk of unwanted pests, protecting your reputation and brand. No matter the size and complexity of your business, we can help you prevent pests and deal with any infestations encountered. 
Cockroaches

in your hotel can have a very serious impact on your business and brand reputation. Any industry that handles food is at a higher risk of infestation by cockroaches.  

Bed bugs

thrive in hotels with so many areas to live and so many people to feed on. Early detection and fast, effective bed bug control solutions are critical to ensure your business experiences the minimum amount of disruption.

Flies

can be of concern to both staff and customers and can spread diseases, contaminate food and even bite people. 
Hospitals & Healthcare Pest Control
Hospitals and other healthcare facilities are busy places, making it difficult to prevent rodents, cockroaches and other insects from entering the building and causing a problem. Professional pest control in healthcare facilities plays an important role in preventing secondary infections. 
As a leading expert in pest control, VermEx has the expertise to deliver high-quality pest control solutions that are individually tailored to the needs of hospitals and healthcare facilities, ensuring the best protection against pests while remaining sensitive to the needs of working in a healthcare environment. 
Rodents

are attracted by the food and warmth in large buildings but can bring a number of diseases with them. Rodents can also cause damage to your building's electrical wiring by gnawing on it. 

Cockroaches

in your facility can present a serious health risk. At VermEx, we can help to protect your business from cockroaches with our range of effective, innovative solutions
A pest problem in a school environment can be a serious concern for the school, faculty and students. Pests, such as rodents, birds and insects, can cause damage to the building, irritate or scare students and staff, and spread diseases. 
Here at VermEx, We can offer professional advice on how to protect your building from pests and can provide individually tailored solutions for any existing pest problems. 
Museums, antiquities, historic buildings and artefacts are vulnerable to a wide range of pest problems, such as rodents gnawing on wood or shredding textiles for nesting materials or certain insects causing damage to wooden objects or furniture or other soft organic matter like artwork, textiles or books. 
Here at VermEx, we provide a professional and individually tailored pest control solution designed to protect and conserve antiquities from pest problems. By using specialist products and techniques, we can remove and prevent any pest problems while 
ensuring minimal risk to the delicate items in your museum, gallery or historic building.
Rats

can cause extensive damage to buildings with their gnawing and can target textiles in the search for nesting materials. In addition, electrical wiring can be damaged, presenting a fire risk. 

Cockroaches

can hide in the smallest of places and can reproduce rapidly, causing a health risk with the diseases they are known to carry. 

Large buildings provide

pigeons

with a safe place to roost. However, they can provide a health risk to staff and visitors thanks to their droppings, which can also cause damage to the exterior of your building as they are erosive. 
While we may not have a physical office in every town across the North of England, VermEx stands ready to provide you with a high-quality service whether your business is located in Manchester, York or Leeds. Our BPCA (British Pest Control Association) certified technicians are standing ready to provide you with a tailored local pest control service to suit your needs. Contact our expert team by phone on 01904 798676, or by email at info@vermex.co.uk for all of your pest control requirements.
Rodents, like rats and mice, are a common form of pest that can infest commercial properties and spoil food and spread disease. Rodents can also cause damage to your commercial property as they search for food and their gnawing can damage insulation, pipes, floorboards, doors and furniture. Rats especially can be hard pests to control due to their cautious nature. Our team of BPCA qualified pest technicians can provide a range of pest control solutions to protect your business and provide you with peace of mind. 
Some birds, such as pigeons and seagulls, can be a real problem to your business and customers if they are in the wrong place. Not only do they make a mess, but they can also damage your premises by dislodging roof tiles or blocking up your guttering. Birds can also be a health hazard. Our pest control experts can provide a range of bird proofing measures that are cost-effective and won't harm the birds or disrupt your business. Get in touch with our expert team to find out how we can help deal with birds on your premises. 
Insect infestations can be one of the most damaging kinds of pest problems for some of our commercial clients, especially those in the hospitality sector. It is a serious issue for restaurants and hotels if there is an infestation of cockroaches or bed bugs in any of their commercial premises and could seriously jeopardise the reputation of their businesses. Thankfully, our experienced pest controllers can provide a discreet and effective pest control solution to help you maintain the health and safety of your business. 
Commercial Pest Control FAQ
Fast & Effective Pest Control
If you notice pest activity in your commercial property, call in the pest control experts for a quick and effective pest control solution to keep your business pest-free. We can provide you with a no-obligation free quote for any work required and can also carry out a free site survey on your commercial premises. 
Get in touch with VermEx on 01904 798676, by emailing info@vermex.co.uk or by using our
contact form
for all of your pest control requirements and call in the professionals for fast and effective pest control.